Magic Loop that is.
And the answer is somewhat. Actually more like getting there.
I've spent the last couple of days playing with magic loop, and these are my findings thusfar ..
Casting on is DECIDEDLY easier than it is with dpns. I know this because I've cast on
at least 22 times in the last 3 days ;) It has taken me more than a few tries to get something going with magic loop, and more than a few yarns. I'm not sure why it is that I think changing the yarn helps.


The first four rounds of a sock, regardless of method chosen, suck. It takes a while to get a good circular motion going and for those first few rounds, it usually is not a terribly comfortable thing. With ML, the weight of the cable tends to pull the stitches in different directions for the first few rows and its somewhat hard to tell whats going on. Plus, it becomes easy to add stitches accidentlaly by kntiting the yarn ladder (which goes away after a row or two). Once this actually turned into a tube of knitting tho, it's a lot faster than DPNS.


While definitely less cumbersome than dpns, I think dpns are more intuitive. I have, for instance, no grasp on what is going to happen when it becomes time to divide for the heel.. and I can't picture at all how I'm supposed to pick up stitches this way. I KNOW once I do it it will make sense, but as of right now it doesn't. (I understood how this worked with dpns from reading instructions, and before doing it, though doing it was another thing entirely ;).

Overall I think I'm leaning toward a preference for Magic Loop over dpns. I think ultimately it will be smoother and easier. But I'm very glad I learned on dpns first since it has kept me from fearing them.
I had had the Socka from my last post in mind for my first loop socks, but I also had a project in mind for that yarn that I don't want to make my first magic loop project (I figure I should stick to the easiest pattern possible the first time i'm learning a technique.) So the Socka is on hold for
Hedera
from the new Knitty.
Anyway. Here is the larval stage of my sock. After casting on a bazillion times making some sort of mistake and doing it again - and picking through different yarns (like i said, changing the yarn every time I cast on made me feel like I was accomplishing something ;) I finally settled on a standard sock pattern (ribbed cuff, stockinette for the rest), in the Lornas Laces Shepherd Sock in Bee Stripe, that has been burning a hole in my stash for the last 6 months.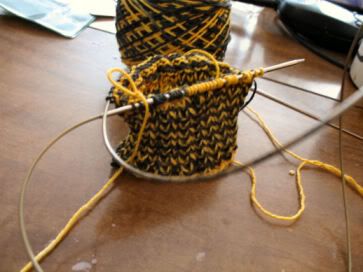 This is a very yummy yarn, and it knits up easily and creates a simultaneously
sturdy and soft fabric. I recommend it highly.