Hi all,
I'm home with some sort of mystery throat ailment that is thankfully being cleared up by antibiotics. I've slept like 18 of the last 24 hours and i'm finally showing signs of feeling better
I love antibiotics.
Solution to mystery 1 - the Vogue knitting confusion -
Problem? bought a vogue knitting whose cover didn't match that on the website and thought i had the wrong one.
Solution: for some reason the one i have had the subscription cover and not the newsstand cover, but its the right one and i hadn't read it.
Solution to mystery 2 - Can't get gauge
My sweater gauge woes were cleared up by a visit to the store, in which i learned that i had the wrong version of the pattern. The one i had was for a smaller-gauge yarn.
what a relief. I now ahve done a few (ok about 20) rows on the back of the sweater and I Love love love how its knitting up, the yak/merino blend is so soft, yet so sturdy - shows the stitches beautifully
Some pics -
A close up of the stitches - sorta - its curling a little from sitting on the circular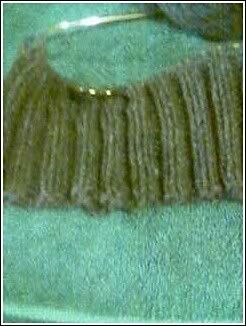 Here we have a pic of the caked yarn and the knitting
hard to see here but its really a pretty yarn.
A shot of the 'now taking forever' "Dunkin Donuts" Fuzzy feet
I hope to knock the other one out tonight, i'm getting a bit tired of these dragging along, but i do love how they are coming out. I plan to do the toe in the aubergine/orange/aubergine pattern that i did on the cuff and the heel.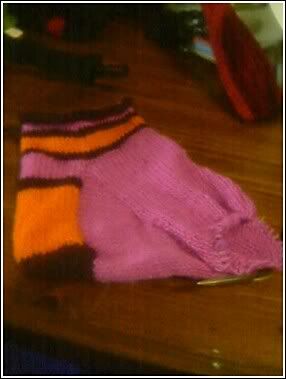 Oh! and i forgot (nearly) to mention that my wonderful friend A from CT (the one who got me the great stitchmarkers a while back), picked up some Alpaca for me!!! They have a local alpaca farm and she picked some up while meeting the animals. I"m so jealous! And i'm very grateful. I can't wait to see it!