Yes ladies and gentlemen, a post.
With knitting no less .
Though not much I grant you. And much of what is there contains problems.
Last two weeks were very stressful workwise and I had nearly no time for much else.
Then we had the snow that ate NYC, but I was too tired most of last weekend to focus on much of anything.
And now, finally i'm settling down to some knitting and getting reoriented with my lovely yarn and needles :)
First up we have Branching Out.
Despite my initial struggle with the combination of Branching Out and Kidsilk Haze, I decided to give it another go. So far, so ok.
You can see a lifeline there if you look closely. Weird, that I was so careful to put a lifefline in, yet so reluctant to use it once I found myself off stitch count a mere 3 rows or so after putting it in. So its sitting there, waiting for me to tear back to the lifeline. And of course, i'm delaying.
I do think it will be beautiful when done, and i'm finidng the teeny-fuzzy yarn easier to work with than the first time I tried.
I think better light helped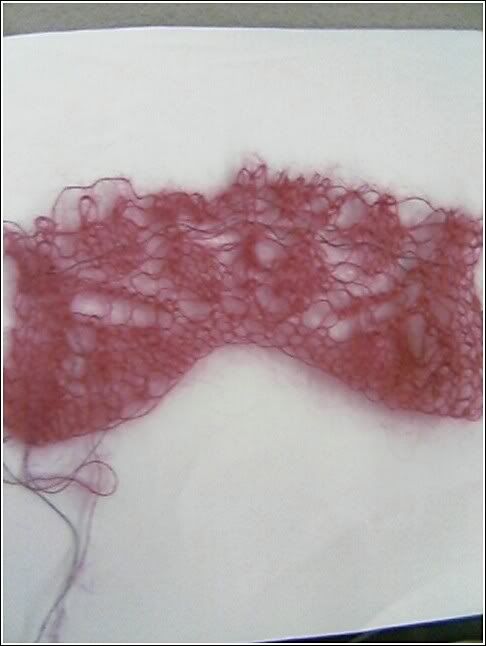 Here we have a pic of one side of the Raglan Baby Sweater.
I love how this is coming out but i'm cleaqrly off in some way because I have 2 more stitches than I expected by row 40 of the decreases, and I can't figure out why.
I have no idea where I went astray or even if i did.
but I seem to think I should have been down to 24 stitches by now instead of row 42.
And have no idea if i should try and uncover the problem or just make the other side 2 rows longer or what.
But all that notwithstanding - Look how cute!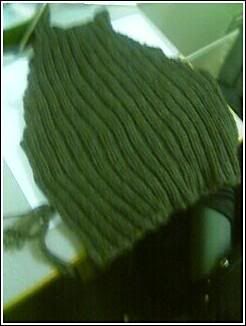 Special thanks to Richard for shovelling all my snow for me this weekend!!